Exclusive up to 65% off rooms + $600 in resort coupons at Azul Beach Resort Riviera Cancun, By Karisma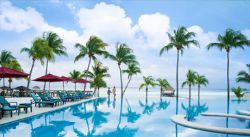 Built on a foundation of exceptional cuisine, this AAA Four Diamond resort features multiple gourmet a la carte restaurants, numerous bars and lounge areas and activities for everyone. This beachfront playground has everything that kids love and adults crave. The luxurious Jacuzzi® Suites offer awe-inspiring ocean views, perfect for destination weddings, honeymoons and romantic celebrations. Children will enjoy the Azulitos Playhouse programs, while teens find pleasure in a world of activities at the Extreme Breeze Teens Club and Splash Park, created just for them.
DEAL: Exclusive up to 65% off rooms + $600 in resort coupons
BOOK: By December 6, 2021
TRAVEL: Through March 31, 2022

With more than 50 years in business, Delta Vacations is one of the largest vacation package providers in the United States, and is a Delta Air Lines company. Delta Vacations is the convenient, one-stop shopping experience for customers and travel advisors, who are looking to book memorable getaways that feature Delta's notable flight service, combined with stays at 5,000+ hotels and resorts. Our dedication to providing above-and-beyond experiences has earned Delta Vacations numerous industry awa
...
Multiple itineraries available